10th Annual No Ordinary Evening
May 1, 2021
---
Thank you to all who joined, near and far, to celebrate the 10th annual No Ordinary Evening. With your support, we raised over $400,000 in support of Declan's legacy – Declan's 100.

Catch up on the event below.
---
Make a Donation
It's not too late to make a gift. Click the link below and donate to the legacy of Declan Drumm Sullivan – Declan's 100.
Declan's Class is a group of Horizons for Youth students, now 100 strong, whose tuition and programming are supported exclusively from funds raised at No Ordinary Evening. The number of students in Declan's Class grows every year, a testament to the commitment of the Drumm-Sullivan family and the entire Horizons for Youth community to the education and future of our students.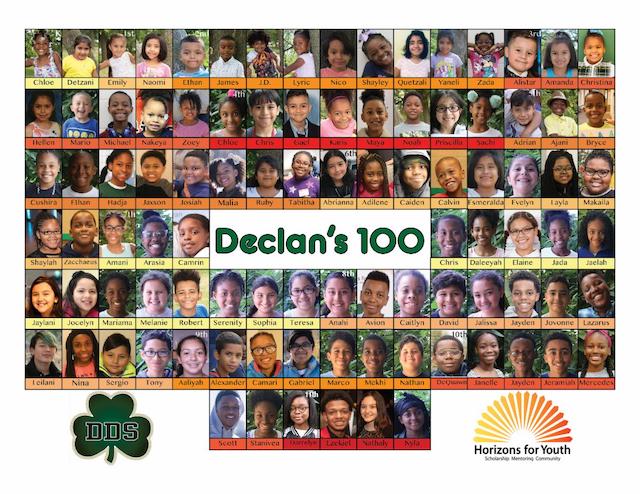 ---
Event Origins
No Ordinary Evening was founded to remember and celebrate the life of Declan Drumm Sullivan, who was tragically killed in an accident at the University of Notre Dame on October 27, 2010. His family created the Declan Drumm Sullivan Memorial Fund to memorialize Declan's life. The Declan Drumm Sullivan Memorial Fund supports organizations that demonstrate substantial local impact in the areas of education and community service.
Benefiting Horizons for Youth
The primary beneficiary of the event is Horizons for Youth, Chicago's only kindergarten through college nonprofit organization committed to helping children from low-resource neighborhoods recognize and achieve their full potential. Over 29 years, Horizons for Youth has partnered with Chicago's public, charter, private, and faith-based schools, along with dedicated families, to provide tuition scholarships, one-on-one mentoring, individualized tutoring, a summer academic program, family support programs, monthly enrichment opportunities, high school and college preparation, and college persistence support.
Horizons for Youth currently serves 229 students. To date, 84% of Horizons for Youth high school program graduates have either graduated from college or are still on track to graduate. They are persisting at a rate nearly ten times greater than their socioeconomic peers, demonstrating the effectiveness and life-changing impact of Horizons for Youth programming.
Contribute to the Declan Drumm Sullivan Memorial Fund
The Declan Drumm Sullivan Memorial Fund, a 501(c)(3) non-profit, supports Chicago-area organizations that demonstrate substantial impact in the areas of education and community service.
Celebrate Declan's life and help deserving children benefit from opportunities that allow them to meet their greatest potential. Please donate to the Declan Drumm Sullivan Memorial Fund. Thank you for your support.
Donations are tax-deductible to the extent allowed by law.
On behalf of the Sullivan Family, Horizons for Youth, and the children who will benefit from your generous contribution to their education, we offer our most sincere thanks.
Thank You to our 2021 Sponsors!
Diamond Sponsors
University of Notre Dame
Platinum Sponsors
Matt and Christine Boler
Nothern Trust Company
OMI Industries – Fresh Wave
Gold Sponsors
ARCO/Murray
Mark and Cindy DeTrempe
Greg and Julie Dingens
Pat Doyle and Kathy Murdock
Mike and Christine Golic
Kelly Cares Foundation
McDonough Family
Patrick and Alyson Nash
Jim and Julie Schwartz
Mike and Karen Streit
XMS Capital Partners
Silver Sponsors
Pat and Ruth Boehmer
Paul and Kate Bradley
Bill and Martha Forsyth
Jeff and Cathy Grimes
JP Morgan
King and Spalding LLP
Debbie Ludolph
McNamara Purcell Foundation
Denise Peterson
Professional Education International
Tim and Julie Van Kirk
William Blair & Company
Wintrust Wealth Management
Wynnchurch Capital
Bronze Sponsors
Barry and Margaret Lyerly
Notre Dame Club of Lake Country
Patrick and Shirley Ryan Foundation
To learn more about sponsorship opportunities at No Ordinary Evening please contact Barry Sullivan at barry@horizons-for-youth.org.